Resilience is the process that allows us to adapt to adversity (trauma, disease, failure, etc.) and recover from it. Resilience protects us from the negative effects of stressors on our body and our immunity. There are certain individual qualities that favour resilience, such as positive affect, personal control and optimism. In sum, positive thinking is a key asset to favour resilience and thus prevent or even reverse the effect of psychological or physical stress on our health.
Managing stress-inducing challenges through positive thinking has been shown to positively affect brain chemistry and thus, as psychoneuroimmunology teaches us, contribute to immune health and overall health. The reverse is also true, as immunity also influences our capacity for resilience. Therefore, keeping a healthy immune system and thinking positively is a win-win combination for performance, well-being and health.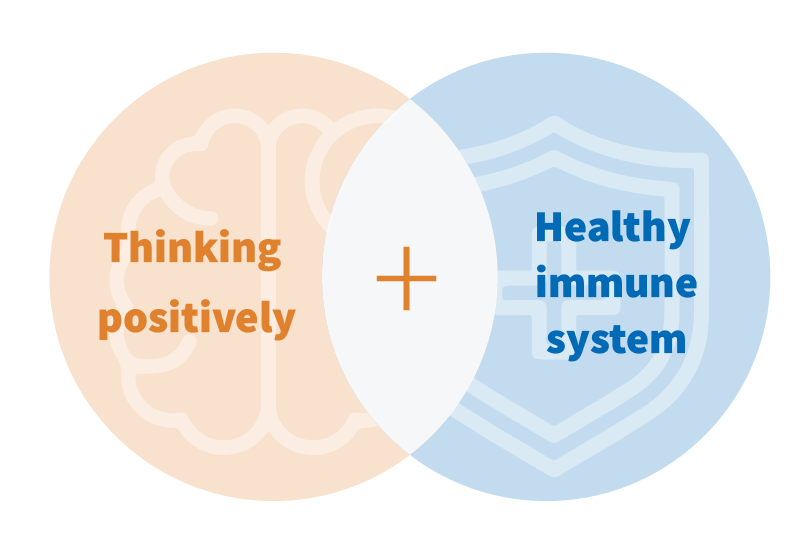 Positive thinking: Self-talk
The impact of a positive mindset in sports performance provides a good example of the effect of self-talk on our body response. An optimistic mental imagery and encouraging self-talk have proven to be reliable companions for psychological and physical well-being and, thus, personal progress and resilience. Self-talk, meaning talking to oneself out loud to replace negative thoughts with positive messages, is an effective strategy to handle challenges and attain resilience, as this is not an innate quality, but something that can be learned and improved. 
Micro-immunotherapy & Resilience
Given that resilience is not a unidirectional process and the interactions between the brain and immunity are multiple and complex, the immune system exerts an influence on our capacity for resilience as well. If our immune system is dysregulated, this affects the other body systems too (i.e. the nervous system and the endocrine system). Thus, keeping a balanced and efficient immune system is key to optimise the effects of positive thinking and optimistic self-talk. 
Micro-immunotherapy, as an immunoregulatory approach, provides immune support to attain balance on a systemic level, counteracting the effects of chronic stress on the various body systems and helping to prevent the deleterious consequences of constant stress. Check out our brochure on Micro-immunotherapy & Psycho-emotional balance for a broader explanation.
Dantzer R, Cohen S, Russo SJ, Dinan TG. Resilience and immunity. Brain Behav Immun. 2018 Nov;74:28-42. doi: 10.1016/j.bbi.2018.08.010. Epub 2018 Aug 10.

Begley, K. (2012). Attentional focus and self-talk. Retrieved from http://www.sportpsychologytoday.com/sport-psychology-for-coaches/attentional-focus-and-self-talk/

Taylor, J. (2012). Sport imagery: Athletes' most powerful mental tool. Retrieved from http://www.psychologytoday.com/blog/the-power-prime/201211/sport-imagery- athletes-most-powerful-mental-tool
Would you like to discover more about Micro-immunotherapy?