What is ICoMI?
The International Congress of Micro-immunotherapy is an international and translational platform for health professionals and researchers to exchange on low dose immunomodulation.
Key topics
1. Metabolic control of immune function
Impact of the microenvironment (nutrients, metabolites, cytokines) on immune cells.
Metabolic pathways (glycolysis, OXPHOS, etc.) in different immune cell subtypes (effector T cells, NK cells, regulatory T cells…).
Nutrient sensors as key cell regulators (mTOR, AMPK, etc.).
Mitochondria & bioenergetics.
Genetics & epigenetics.
2. Dysmetabolism, chronic inflammation & associated diseases
Infectious disorders (EBV, SARS-CoV-2, HIV…).
Obesity, diabetes.
Cardiovascular diseases.
Autoimmunity.
Cancer.
3. Therapeutic interventions & immunometabolic reprogramming
Low dose immunotherapy (micro-immunotherapy).
Other pharmacological interventions & immunomodulatory strategies.
Microbiota-based therapies & metabolites as immune regulators.
Nutritional immunology.
Immunometabolic effects of diet & exercise.
4. Diagnostic tools & biomarkers
Biomarkers of inflammation.
Lymphocyte typing.
Metabolic & oxidative stress biomarkers.
Microbiome analysis.
Microbial detection methods.
Nutrient monitoring.
Genetic & epigenetic profiling.
What is immunometabolism?
Immunometabolism is the interplay between immunological and metabolic processes.
On the cell level:
The immune cell metabolism is not the only influenced by the microenvironment (antigenic stimuli, cytokines, nutrients and metabolites, etc.), but also by the activation and differentiation status of the cell itself.
Conversely, metabolism is a key determinant of immune cell function.
On the systemic level:
The immune status and inflammation can have an impact on metabolic system and viceversa.
Thus, health depends on immune and metabolic balance, whereas immunometabolic dysregulation has been associated with different diseases like diabetes, cancer or cardiovascular diseases, among others.

ICoMI2022: your chance to participate
Send your abstract!
Submit your abstract before January 31, 2022. Sending your research results or your clinical experience/s will allow you to:
Interested in becoming a sponsor?
Generate and increase brand awareness.
Promote your products and services.
Connect with your global audience during the networking breaks and increase your reach and exposure to new clients and businesses.
Demonstrate your knowledge and expertise in sponsorship sessions.
Back on ICoMI2017…


The first edition of ICoMI brought together for the first time health professionals and researchers to exchange their experiences on micro-immunotherapy in the treatment of autoimmunity and chronic diseases.
Indeed, wanting to strengthen and regulate the immune system becomes an essential therapeutic strategy to improve the treatment of patients and, more particularly, of those suffering from chronic diseases.
In a few words: a success!
First international meeting on micro-immunotherapy
3 days of conferences
+ 300 participants
28 countries represented
43 sessions (research and medical experience)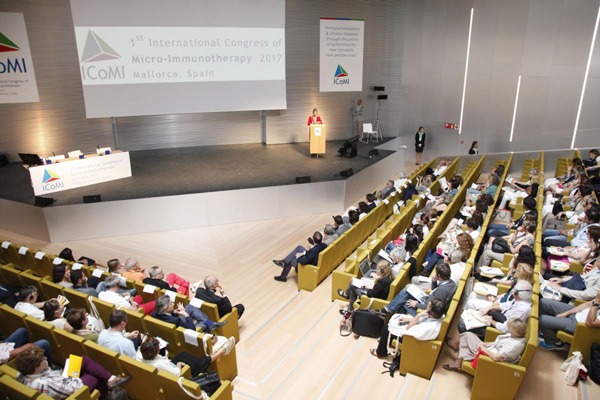 Engaged in research and development

Research and development on immunity is evolving very quickly. These advances are bringing new treatments and offering hope for a healthier life.
We believe in the future of low dose immunotherapy (i.e. micro-immunotherapy) and therefore we dedicate a great effort to research and innovation in this field.
Our association is engaged in research and development and we initiate research projects at an international level. We also work in partnership with other associations that share our integrative vision of health.