About ICoMI 2022
The International Congress of Micro-immunotherapy is an international and translational platform for health professionals and researchers to exchange on low dose immunomodulation.



Reasons to participate
Update your knowledge on immunometabolism and micro-immunotherapy.
Discover new clinical practices through the exchange of experience.
Develop research in the field of micro-immunotherapy.
Exchange within an international community of health professionals and researchers.
If you want to know the latest news about ICoMI, subscribe to the newsletter!
See you in June 2022!



The next edition of the congress will take place from June 2 to 4 2022 and will address the topic "Immunomodulation in health and disease. Targeting immunometabolism as a key strategy", an emerging clinical field for both health professionals and researchers. Indeed, the combination of immunological and metabolic approaches opens up new perspectives in the prevention and treatment of chronic diseases. For a better immersion in the congress, you can follow a training course on immunometabolism on June 1.
Micro-immunotherapy, an immunotherapy that uses cytokines and other immune mediators at low doses, aims to regulate the immune function. Thus, this therapeutic approach in synergy with other approaches focused on cell metabolism can play an important role in the overall treatment plan for these diseases.
Clinical & Research key topics
Metabolic reprogramming of immune cells

Mitochondrial metabolism

Inflammation

Microbiota

Micronutrients
Obesity

Diabetes

Cancer

Cardiovascular diseases

Viral infections

Rheumatic diseases
Back on ICoMI2017…


The first edition of ICoMI brought together for the first time health professionals and researchers to exchange their experiences on micro-immunotherapy in the treatment of autoimmunity and chronic diseases.
Indeed, wanting to strengthen and regulate the immune system becomes an essential therapeutic strategy to improve the treatment of patients and, more particularly, of those suffering from chronic diseases.
In a few words: a success!
First international meeting on micro-immunotherapy
3 days of conferences
+ 300 participants
28 countries represented
43 sessions (research and medical experience)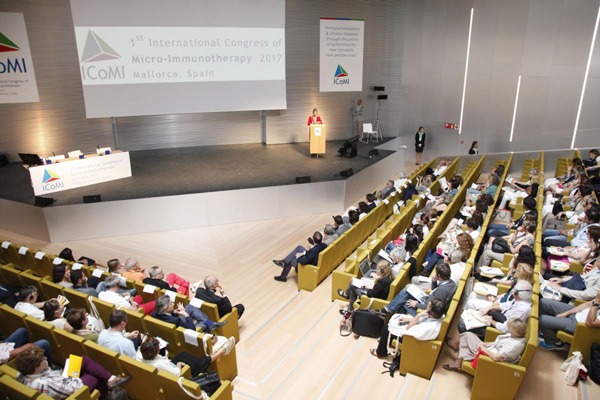 Engaged in research and development

Research and development on immunity is evolving very quickly. These advances are bringing new treatments and offering hope for a healthier life.
We believe in the future of low dose immunotherapy (i.e. micro-immunotherapy) and therefore we dedicate a great effort to research and innovation in this field.
Our association is engaged in research and development and we initiate research projects at an international level. We also work in partnership with other associations that share our integrative vision of health.